WELCOME TO SINE CERA
Sine Cera is a wellness retreat centre nestled in pristine rainforest, where you can heal your mind, body, and soul, all while contributing to a greater cause. 
This eco-friendly retreat centre will become your home while you disconnect from the chaos of modern life and allow yourself to forge deeper connections with yourself and others. Come and discover your inner peace in the outer world.
Sine Cera exists to help people have meaningful experiences and create deep connections with their fellow human beings.
We care about the simpler things in life, encouraging our visitors to switch off, relax and unwind. Instead of just offering an escape from everyday life, we provide the facilities and natural environment to help you and your group reconnect with yourselves and with nature.
We give you the freedom and mental space needed to truly experience and appreciate the gifts of the world around you.
Sine Cera is located on 200 acres of spectacular rainforest gullies, pristine creeks and dramatic bushland ridges.
We're advocates of the healing properties within ourselves and of nature. This is why we created a retreat centre immersed in a beautiful wilderness within reach of our region's major towns, less than 2 hours from Byron Bay, Gold Coast and Brisbane.. 
Sine Cera is your home in nature. It's a place of acceptance, where everyone is welcome, and where you can sincerely be yourself.
Our team has worked hard to build a peaceful, welcoming environment that ensures safety for everyone, both mentally and physically.
We're proud to be able to do what we do surrounded by some of the most spectacular sights and sounds our country has to offer. Australia is home to a wide array of breathtaking scenery, and Sine Cera captures this in its most natural form, giving visitors a unique opportunity to experience the unspoilt beauty of this ancient landscape. Sine Cera adjoins the World Heritage listed Border Ranges National park.
Our site is home to Northern New South Wales' most iconic flora and fauna, with an estimated 660 species of plants and animals, including rare and endangered species.
THE PERFECT RAINFOREST BACKDROP
Retreats at Sine Cera Rainforest Retreat
Perfect environment to disconnect and recharge. An amazing beautiful energy and space to let go and renew. Absolutely magical setting..... Thank you
We would like to express our gratitude for the care we have received at Sine Cera Rainforest Retreat over the last few years. The team has supported our organisation and events in numerous ways – a depth of human connection that we haven't experienced elsewhere. The layout and spaciousness of the buildings allows us to build community amongst people newly meeting, while offering opportunities to get away from the group, and the ability to run various processes simultaneously.
Once again, we had a wonderful time at your facility. It is such a lovely place and Tim keeps it absolutely beautiful which makes it so much easier for us to leave it in great condition when that is exactly how we found it.
You have such a beautiful property and it was the perfect place for us to have our first retreat! We had such a perfect weekend thanks to Sine Cera. … And your kitchen/common area is perfectly stocked and immaculate condition! It was the perfect getaway for all our ladies! We will definitely be booking in for our next retreat. Hopefully a couple!
We've just had the best weekend here. Wonderful facilities, privacy, bush walks, swimming holes and great food. Next occasion I'll be back. It was an amazing weekend. The setting is beautiful and the commercial kitchen made it so easy to produce the astonishing meals my guests provided. And they all LOVED the place. People didn't want to leave and many want to come back. It's not glamorous or luxurious in any traditional way but it's magnificent. Thank you.
We have just spent 7 beautiful days as a group of yoga students from Lismore Yoga Studio on a training retreat. We had a great stay - comfortable, clean, quiet, lovely wood fires, great food, great venue.
What an incredible camp. Thank you so much for being so accommodating & supportive. Tim was fantastic and the accommodation & location was such an amazing platform for Camp. The kids made such significant shifts so thanks for being a part of that.
It's a stunning place. ... Being surrounded my nature. Being in a rustic environment. It was just amazing. I loved it. You guys have such a beautiful spot. 🙂
All of it. Sine Cera is exactly what we hoped it would be. Jamie and I first found Sine Cera 2 years ago when we were looking for a wedding venue, unfortunately logistics made it too difficult to have there but we promised ourselves we would be back and I am so glad we did. Getting back to nature and switching off should be something that is done regularly and this is a perfect place to do it. Tim takes great care of the place and you can tell that he loves it. All our friends said it was a great weekend and we will definitely be back. In fact I am hoping to be back at Christmas with my family!!
I used Sine Cera to run a Yoga and meditation retreat and it was absolutely perfect.! We had 12 guests plus myself and we all felt very comfortable with plenty of room - we could have had double the people easily... We have already decided to come back both for another retreat and to stay with our families. It's a beautiful space... Thank you.
Great weekend had by all in this wonderful place. Fantastic amenities for our ever-growing clan. Loved the creek, waterfall, hall, safe for our kids.  Beautiful setting. Couldn't have been a better weekend. Thank you !
What an amazing weekend! Our friends are so pleased with the place and everyone had an fantastic time. The creek was magnificent! We were there both days. We were talking about coming back soon. We will love to go back in winter time with the fire going and experience the winter there as well. My older daughter keeps telling me she wants to go back to the retreat every year! Site manager Tim was more than awesome. He is so friendly and chilled made our stay even more relaxing!
Our stay was enjoyable. The walk to the top of the Mountain was spectacular. The pink ribbons kept us on track. Thank you for taking the time to place them so we were able to find our way up and down the mountain. The ropes were a great help to. The walk to the river was also very beautiful. We had a dip it was cool, refreshing and pristine.
Thank you so much for the provision of your delightful retreat centre. From room preparation to the magnificent grounds, our journey and experience was superb. Tim [Sine Cera Manager] is a gem. Very helpful and holds the space without imposition. Most appreciated.
We have always felt very held by the land itself, and are honoured by the welcome we have received from the Gidabal people – the traditional owners of the land. To be surrounded by so much beauty is nurturing and energising, and has been a wonderfully supportive part of the teaching programmes we hold there.
Fahr House is Sine Cera's premium accommodation suitable for up to 30 people. Featuring 13 twin share or king double bed rooms and 2 queen bedrooms, access to a comfortable lounge and meeting area – there is a perfect mixture of comfort, nature and affordability.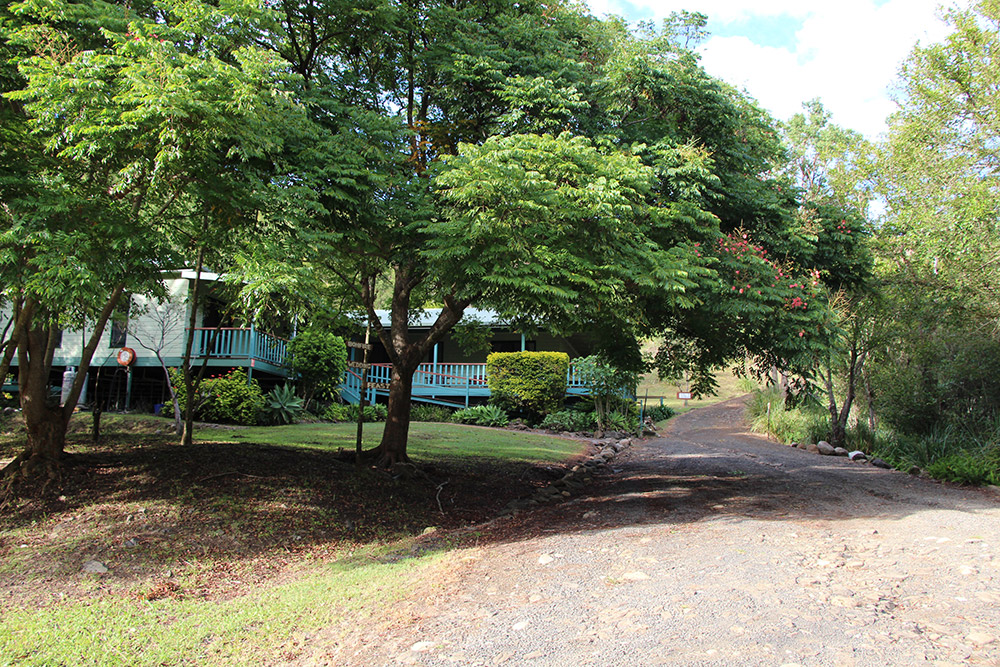 The Chalet houses bunk accommodation for up to 70 people. Featuring 7 rooms each with 10 bunks (5 double bunks), a separate bathroom and toilet in each room, verandas and a large air conditioning meeting / workshop space.
The Perfect Rainforest Backdrop